Should Sororities and Fraternities be Banned?
Throughout the years, Greek life has been a large part of college for many students. As in 1776, the first Fraternity was founded known as Phi Beta Kappa. There are around 2,913 chapters of Greek life within Universities across the country. 
Though Greek life has always seemed a fun opportunity to create new memories, over recent years it seems there has been more harm than good. In order to join into a chapter, many sororities and fraternities put their pledges through acts of hazing or an initiation ritual. Hazing is otherwise known as acts of humiliation or demeaning tasks. The hazing rituals can go anywhere from public nudity to forced drug consumption. These corrupt acts have caused tension over whether greek life should still be allowed on campuses. 
Many chapters have been banned and suspended over recent years such as ASU's Kappa Sigma Fraternity chapter. According to The State Press, Christian Leventhal is suing Kappa Sigma after the hazing rituals left him in the hospital, "Kappa Sigma pledges were forced to put a combination of different hot sauces, or pickles marinated in hot sauce, in their underwear, run over three miles, assume a plank-like position with only elbows and toes on the ground over 500 times and eat M&M's off a floor on which people had vomited, urinated and defecated, according to the civil complaint filed in the Maricopa county superior court. 
Leventhal and his parents are suing Kappa Sigma national fraternity, its ASU chapter, and 28 individuals on 10 separate counts, including gross negligence, false imprisonment, and punitive damages." The chapter was suspended and is being further looked into after Leventhal's statements, although ASU has not commented much on the lawsuit.
Although many think of hazing as a non-harmful way of recruitment, others have seen the consequences of the risks. According to TIME, "The backlash against Greek life has fueled calls to abolish fraternities altogether, along with demands that students involved in hazing deaths face more serious charges. After Penn State sophomore Tim Piazza died while pledging a fraternity in February, Centre County District Attorney Stacy Parks Miller sought charges as severe as involuntary manslaughter and aggravated assault, but hazing cases usually result in more minor charges, if any are brought at all." After the incident, Penn State charged and closed Beta Theta Pi indefinitely. Piazza's death sparked controversy around the nation, and 8 were charged with involuntary manslaughter over his death due to alcohol-fueled hazing.  
Over 15 deaths occurred in 2017 due to hazing rituals in fraternities, causing many to question why they're still around. Hazing isn't the only negative aspect of Greek life, as many have come out and stated their horror stories from attending Fraternity events.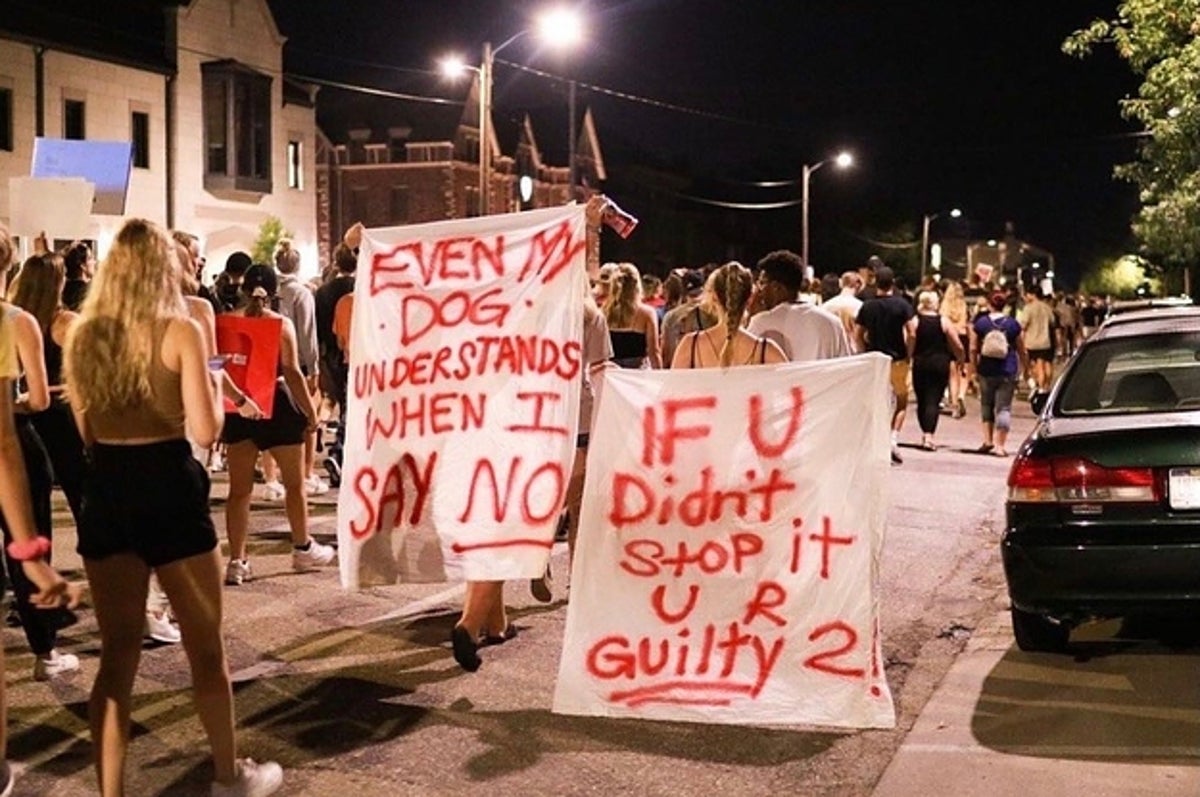 A well-known fraternity by the name of "Fiji" is under large consequences, leading many of their chapters to be banned from campuses across the country. The banning came after Fiji's list of rules was leaked, and a student was found unresponsive in the middle of their lawn at the University of Nebraska-Lincoln. Dailymail states, "The University of Nebraska-Lincoln is shutting down a frat house that was already on probation while it investigates an alleged rape that has led to huge protests on campus for two nights in a row." A girl unidentified by the source, who was 17 years old went to the hospital with some of the worst bruises and injuries the nurses have ever seen from a Fraternity. This incident caused riots across the campus and social media to be flooded with posts for the victim. Students were even giving out information about the student who committed the act, such as his address and family members' numbers. 
With as many deaths and injuries from hazing, Greek life is inevitably too dangerous for college campuses. Over the years, the chapters have proven time and time again that the hazing rituals will lead someone into the hospital or even death.