Heartstopper
With intoxicating music and an incredible storyline, Heartstopper is the must watch show right now on Netflix.
Based on Alice Oseman's hit graphic novel series, Heartstopper hit the Netflix platform on April 22nd after much anticipation. The first season follows the storyline of the first two books in the series. The show focuses on Nick and Charlie, two LGBTQIA+ boys attending an all boys school who's friendship evolves into something unexpected. While Charlie has been outed as gay; Nick is only just discovering his sexuality. With conflicting opinions from their friends, the boys struggle deeply to figure out how they feel about one another.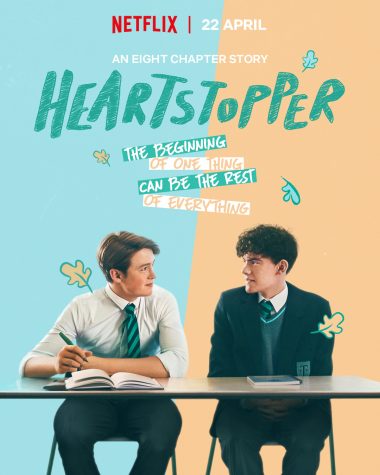 Since it was started by Alice Oseman in 2016, Heartstopper has gained many followers especially those in the LGBTQIA+ community. According to an anonymous student, "It's such a beautiful love story between such incredibly brave characters. It really helped me to be comfortable with my own sexuality." 
In addition to providing comfort to those in the LGBTQIA+ community, the show also has incredibly relatable characters and a wide range of first-rate  music. Not only that, but it has beautiful lighting throughout which adds a certain sense of majesty to the whole program.
Due to the success of the first season, the show has been renewed for second and third seasons. "The eight-episode second season of Heartstopper will begin filming on September 13 in London…," reports movies.net. According to the author of the books, the second season will somewhat adhere to the storyline of the third book in the series. Based on the track the graphic novels take, fans can expect an exciting second season that follows Nick, Charlie, and their friends as they travel to Paris for a school trip.
Heartstopper is not only a great addition to the Netflix family, but also a safe world of escape for LGBTQIA+  people.