Starbucks Spreads Holiday Joy
Ho, ho, ho! It is beginning to look a lot like Christmas at Starbucks.
The return of pumpkin spice has come and gone, and it is now the most wonderful time of the year: behold peppermint season. If you did not get the chance to try any of Starbucks' holiday drinks and treats last year, no worries; Starbucks has brought back quite a few of its previous holiday favorites, as well as spread more holiday cheer by adding one new item onto its seasonal menu.
Following 20 years of tradition, Starbucks' holiday menu features its holiday classic Peppermint Mocha, as well as the Irish Cream Cold Brew, Caramel Brulée Latte, Chestnut Praline Latte, Toasted White Chocolate Mocha, and its latest holiday favorite, the non-dairy Iced Sugar Cookie Almond Milk Latte. Starbucks informs that all drinks are "available hot, iced, and as a Frappuccino blended beverage." With Starbucks' holiday menu including a mixture of both hot and cold drinks, it has reached more customer satisfaction, especially from "those who opt for iced drinks year-round," according to Hannah Twietmeyer, a writer for Taste of Home. Despite this, the Peppermint Mocha continues to be Starbucks' top holiday drink as many resonate with Gabbi Shaw's claim of it being the perfect drink "to sip on while blasting 'All I Want for Christmas Is You." However, Starbucks' non-dairy Iced Sugar Cookie Almond Milk Latte continues to be a hit as its taste continues to pleasantly surprise many. As one can expect, given its name, the Iced Sugar Cookie Almond Milk Latte tastes like a sugar cookie, but unlike many assume, it is not excessively sweet. Gabbi Shaw, a writer for Insider and a Starbucks fanatic, explains that after trying the drink, "it was such a pleasant surprise that the sugar cookie-flavored drink wasn't a cavity in a cup." The Sugar Cookie Almond Milk Latte has not only targeted a new selection of customers since it first appeared in last year's holiday menu, but it has also won over loyal customers, especially since its Almond Milk can be substituted for their choice of milk. The Toasted White Chocolate Mocha is also a great choice, especially for those who are new to the Holiday Menu and are looking for a "safe option." An anonymous senior at Thunderbird High School states, "I have recently gone to Starbucks and tried out its holiday drinks for the first time, and The Toasted White Chocolate Mocha was amazing, and although it was a simple drink, it had me feeling merry and bright." It is never too early to spice up your beverage with Starbucks holiday cheer!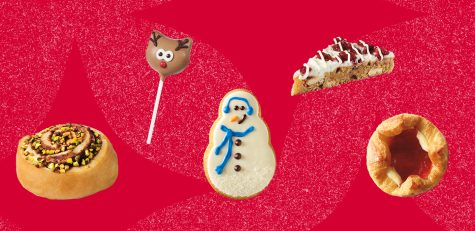 As for its pastries, its Reindeer Cake Pop, Sugar Plum Cheese Danish, Cranberry Bliss Bar, and Snowman Cookie have all returned with a new addition: a festive tree-like Chocolate Pistachio Swirl. Its newest addition is yet to be acclaimed as its top holiday treat, but for many years, it has been said that the Sugar Plum Cheese Danish is to die for. A Starbucks representative has even described it as "a dreamy combination of flavors that you'll have visions of this holiday delight long after your last bite." For those who do try this pastry, consider asking for it warmed up since doing so makes the cream cheese much more savory. 
Like Christmas, Starbucks' holiday menu will not last forever, so stop by Starbucks for some special red-cup holiday cheer!