Under Review: Red White and Royal Blue
A love story between two self described enemies? That crosses the Atlantic? Seems pretty riveting, does it not?
Since its release in 2019, Red White & Royal Blue, known by its fans as Rwrb, has become a wildly popular book. So popular, in fact, that the book is being made into an Amazon Prime film. Since being announced last year fans have been extremely excited both for the film and the actors playing the leads. According to Alexandra Ramos of cinemablend.com, "Taylor Zakhar Perez and Nicholas Galitzine are going to be taking on the lead roles in the romance adaptation." An anonymous senior states, "I am so excited for the show as it is one of my favorite books, but I think the cast choices were the real deal and will do a great job presenting the love story on screen."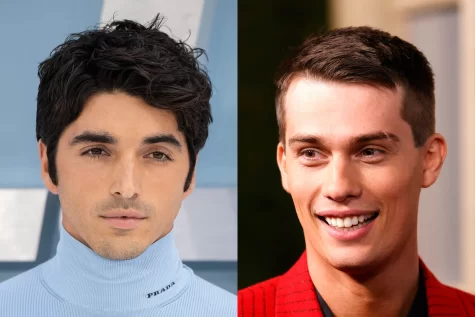 Red White & Royal Blue follows the lives of the first son of the United States, Alex, as he navigates through his sexuality and the youngest prince of the United Kingdom, Henry, as he tries to fight between what is expected and what his heart truly wants. As these two so-called enemies lives' begin to converge their relationship changes into something no one could have expected.
Personally, I think Red White & Royal Blue is one of, if not, the best book I have ever read. The author, Casey McQuiston has beautifully crafted a love story between two strong willed and incredibly caring characters that could even rival the story of Romeo and Juliet. Rwrb is not only incredible for its characters but also for its use of works from historical figures like the use of Love Letters: Virginia Woolf and Vita Sackville-West in the book. Not only does this book include these many incredible features, but on the whole, it just has something for everyone whether it is politics, family drama, or just wanting to belong. Needless to say, this book is definitely near impossible to put down.
Make sure to check out the Red White and Royal Blue film when it hits Amazon and in the meantime check out the incredibly riveting book that inspired it all because it is definitely making history, huh?