The Last of Us: TV Series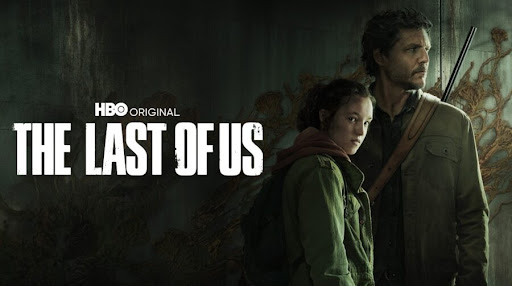 With a gripping story line set in an intense, post-apocalyptic world, The Last of Us is considered one of "the greatest video games of all time" among millions. Though released in 2013, the journey lives on in a new tv show adaptation on HBO.
On Jan. 15, 2023 episode one of The Last of Us premiered on HBO. 20 years after a world-wide fungal outbreak, survivors are barely getting by in a hostile Boston quarantine zone run by the military organization FEDRA, the Federal Disaster Response Agency. We follow the protagonist, Joel Miller (Pedro Pascal) and his smuggling partner Tess Servopoulos (Anna Torv) through an unsuspecting mission. While sneaking out of the quarantine zone and secretly searching for a car battery the pair stumble into the aftermath of a fight, at a camp of FEDRA's enemies, the Fireflies. Joel and Tess are met with one of the leaders of the militia group, Marlene (Merle Dandrige), accompanied by 14 year old Ellie Williams (Bella Ramsey), who must be smuggled out of the zone for a reason only Marlene is aware of. Though there is rising violence between FEDRA and the Fireflies, Joel and Marlene have a connection through former Firefly Tommy Miller (Gabriel Luna), Joel's brother whose whereabouts are unknown. An injured Marlene makes a deal with Joel and Tess: if they take Ellie outside the walls to a team of Fireflies, the smugglers will receive the supplies they are searching for. After accepting the deal, Joel, Tess, and Ellie are immediately faced with several threats, and in time the trade between the smugglers and the Fireflies can not be performed. Eventually forced to watch over Ellie without the help of Tess, 52 year old Joel is displeased to be burdened with the smart-mouthed teenager, who must keep her recent discovery of immunity to the infection secret.
Despite Joel's seriousness, Ellie has a fiery and outgoing personality. Though their resentment towards each other at first, the pair's growing father-daughter dynamic throughout their adventure is remarkably comedic, entertaining, heartwarming, and what makes The Last of Us so massively notable. Joel and Ellie's nail-biting journey from Boston to a group of doctors in Utah researching a cure to the outbreak, is slightly altered in a way that is different from the game, yet done magnificently. This includes the aspects of the pandemic and how it spreads. Just like in the game, we know that cordyceps is a real fungus that controls the mind of its host (particularly in insects such as ants), but in the series there is a clearer expansion on how fungi that could originally not exist in humans, has evolved enough to infect and alter them. Though The Last of Us is fiction, creators Neil Druckmann and Craig Mazin revealed in "Inside the Episode – 2" how their extensive research on fungi plays into the new plot points, and how realistic Ellie and Joels situation truly is. "They are remarkable organisms," Mazin says, "and unfortunately in this case, also terrifying." 
From the hauntingly beautiful cinematics, to the chilling violence and tragedy, and touching bonds created in a ruined, post-apocalyptic world, The Last of Us is looking like one of the best video game adaptations made. Craig Mazin shares, "Neil [Druckmann] understands how to create fear, and it's gorgeous." New episodes of The Last of Us air every Sunday on HBO.