Fast and Furious: Fast X: The End of The Road Begins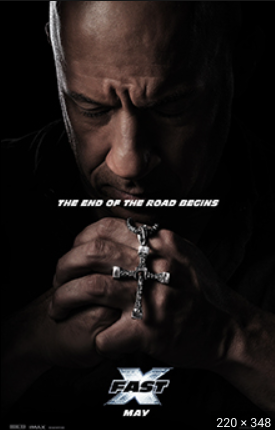 Fast and Furious: Fast X will hit theaters on May 13, but the trailer just dropped, sparking a ton of ideas. Many are really interested in finding out how they will give these incredible movies the fitting conclusion, given that Fast X is only the first of the two-part finale. 
The story has been centered on cars and family, but gradually it has become more about family. These films have demonstrated that family isn't just about blood, but also about love, loyalty, and the people you choose. This may all come to an end, now that someone is attempting to split this family apart. "Over many missions and against impossible odds, Dom Toretto (Vin Diesel) and his family have outsmarted, out-nerved and outdriven every foe in their path. Now, they confront the most lethal opponent they've ever faced: A terrifying threat emerging from the shadows of the past who's fueled by blood revenge, and who is determined to shatter this family and destroy everything—and everyone—that Dom loves, forever." said in the description of the trailer. 
Momoa's character is out for revenge, and intends to take Dom's family away after Dom stole his.  Fans speculate that some of them will be forced to swap sides as a result of this putting them all in jeopardy.
Although there were numerous rumors about the film before the trailer was released, there are even more now that it's out. Some say Brie Larson's character, Tess, is Brian's Sister.
Though, many fans are most focused on Paul Walker and his character. Walker tragically died in a car crash in 2013 while they were filming the 7th movie and they used CGI for his remaining scenes. Though he was not physically there, his character is still alive in the world.
Brian was seen briefly in the trailer but it was only a flashback proving that they likely will not be using CGI to put him in the movie. As stated by Leterrier, "Well, Brian is very much alive in the world of Fast & Furious, and they've teased him a lot in the previous movies. In 9, we see the car coming. It's something that is planned. This movie jumps back and forth between the past and the present. You will see Brian in the past, you won't see Brian in the present. It's something that everybody has to be on board with. The Walker family is still very much a part of this franchise, you'll see how in this movie. It just has to be the right moment, the right tone. I think what James Wan did at the end of 7 was perfect. The tone was perfect. Brian has to re-enter the franchise as perfectly as he left it."
Even students here have had some theories, Danessah Reeves, sophomore theorizes that Dom will die. "Maybe because this is the ending of the series, I think that Dom will die.", and she also says "Something big is going to happen for sure."
Though this is just some of the many theories for Fast X, we will not know till May 13.