Thunderbird's Girls Volleyball Sets Into the Season
Serve it up! A new season has sprung upon Thunderbird High School's girl volleyball players, and team athletes and coaches have set some new goals and expectations for this season.
Heading it up, Coach Carly Price has joined Coach Cassandra Carino and coach Kirk Mearig. Unlike previous years, Coach Price and coach Carino will be joining forces and running JV and Varsity together now that JV coach Dan Walsh has moved out of state. However, Coach Mearig will continue to coach 9/10 Girls Volleyball on his own this fall season, and later on in the spring, he will run the boys volleyball program. 
As a result of those changes, team players and coaches will focus on team bonding this season. Coach Price declares that "[she is] most looking forward to the bond that [her] girls are building. They are so full of joy, laughter, and work ethic, and it is fun to walk into the gym every day to start practice. [She is] excited for this program as a whole because [there are] a lot of talented athletes, positive people, and just good humans. [She hopes] that [her girls] set an example as to what student-athletes should be at Thunderbird." Kayla Quiroga Flores, junior and JV team captain, additionally exclaims that "so far as the season has come to a start, [she is] excited to bond more with [her] teammates and have a successful season. [She feels] like [they] already have a really great bond but is excited to get to know teammates better on and off the court this year." With all three teams coming together on Saturdays for weightlifting and at team bonding activities, it is important that everyone be on good terms with each other because it will help set up a positive and supportive environment.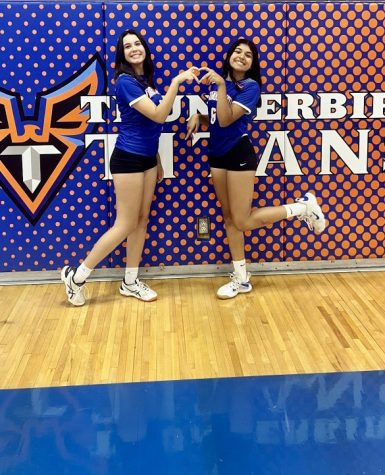 Aside from team bonding, Thunderbird's Girls Volleyball program is looking forward to fundraising and their future games. Within the last month, they have generated over $700 and have received more than $100 following their Peace Cream fundraiser and Serve-a-Thon; they hope to continue raising their funds throughout the season in order to buy more snacks for the girls' snack bags and to pay off dinner meals provided at away games.                                                                           
On Monday, Aug. 29, 2022, all three teams kicked off their season in Flagstaff. Varsity won the game with a score of 3-2. Coach Price has affirmed that [her] goals for [their] matches are to perform to the best of ability, and win or lose to be able to reflect on [their] performance in order to make positive changes for next matches. [Varsity hopes] to, at the minimum, be above .500, top 3 in the region, and make the state playoffs." JV and 9/10 gave it their all, but unfortunately did not win their matches, but they will continue to work hard and improve as their games continue. Coach Mearig asserts that "as a 9/10 Team, [they] are expecting to grow a lot this season both in [their] skills and in [their] understanding of the game." JV will also continue to play with grit and integrity as Coach Price advises. 
As all three girl volleyball teams dive into the season, do not forget to attend their games and show your support. Game tickets can be purchased ahead of time using the following link https://gofan.co/app/school/AZ12814. An adult ticket costs $5, and any child's ticket between the ages six and fourteen costs $3. If you wish to stay caught up with every match and final score, use the following link: https://www.azpreps365.com/teams/volleyball-girls/3504-t-bird/160646-varsity. Pass, set, and hit, Titans!