Previewing Titans' Football
As Thunderbird is about to kick off their season on September 2, 2022, on their home field, they have done so much to prepare themselves for the long and strenuous season. 
Last year they nearly missed the playoffs as a devastating loss to Moon Valley Highschool. This year they intend to make it and go for the State championship. Furthermore, Junior Cornerback Brian Costa  made a huge impact on the team last year. He is an all around threat on defense and made second team all defense. Costa reports, "Last year's season was cut short as we didn't make the playoffs,but this year we plan on shocking everyone." This year they have a 10 game season with 6 home games and 4 away games.  Furthermore, having an extra home game will be better for the team because they will have their fellow classmates come to more of their games.
Over summer the team was informed that there will be no days off, and "the team", plans on working hard to achieve their goals. Additionally, Coach Nalette took his team to a 7×7 tournament which is 7 players all going against each other without the tackling and hitting aspect in the game and fewer players on the field.  Players came back with winning on their mind. Our Titans went 3-1 in pool play and won the whole tournament as quarterback Carter Squires was connecting with all his wide receivers.  
The Titans had their season opener against West Point highschool and played their hearts out, but came up short in a 8-13 loss. "Our defense was phenomenal but we were struggling to convert on offense." Coach Nalette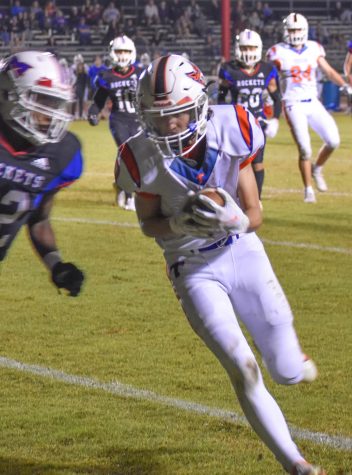 stated to the press. Even though the Titans did not did not start off their season the way they wanted to, they will still play and work hard to win the next game and every game that comes after for a chance to make it to the playoffs and continue their season further.