Trisha and Her Royal Baby
Did Trisha Paytas Give Birth to The Queen?
Queen Elizabeth or Malibu Barbie? Let's see what the internet has to say.
On September 8, 2022,  Queen Elizabeth II passed away. As half the world mourned her passing, the other half was consprizing a woman's birth and a royal queen's reincarnation.
 Youtube Personality Trisha Paytas, the woman giving birth as mentioned before, hinted in a tweet that she could possibly be going into labor in the near future. Trisha Paytas' tweet reads, "1cm dilated! Woo Hoo!" Many people on social media assumed that this meant she was going to give birth that same day.  Rumors were also spread that she was going to name her baby Elizabeth.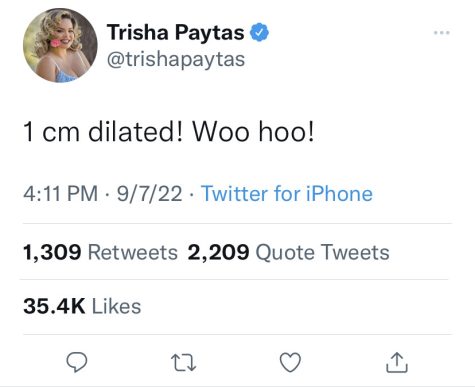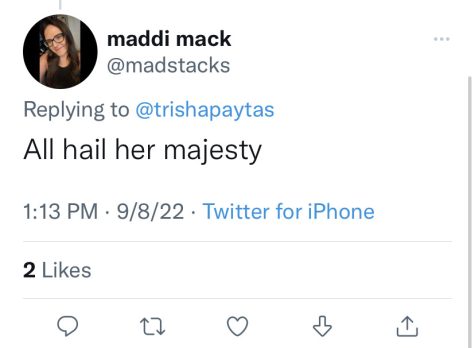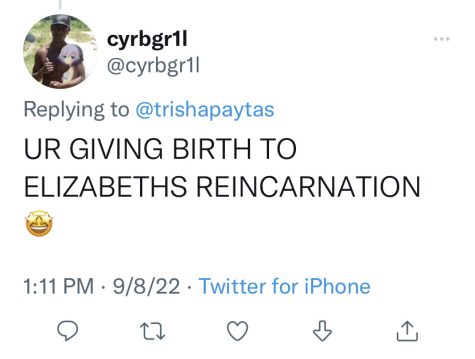 In response to Trisha Paytas' tweet, fans tweeted the following: "The queen is coming," announces @SkinnyMissLegs, "All hail her majesty," proclaims @madstacks, and @cyrbgr1l exclaims with enthusiasm "[YOU'RE] GIVING BIRTH TO ELIZABETH'S REINCARNATION." Although lots found this amusing, Trisha did not find this to be respectful. Trisha Paytas tweeted an additional response to all of the commotion on the internet regarding her baby. She went on to say, " I feel like I'm disappointing the internet right now but I'm still very much pregnant…" and continued on in another response reporting, " I'm still so confused by yesterday. Truly. Like it feels like I'm in a simulation fr fr. Like the actual Truman show or something. Imagine all this speculation of your unborn daughter coming out of nowhere. I truly, for the first time ever, don't know how to handle this." Based on her feedback, Trisha Paytas was very stressed over this situation.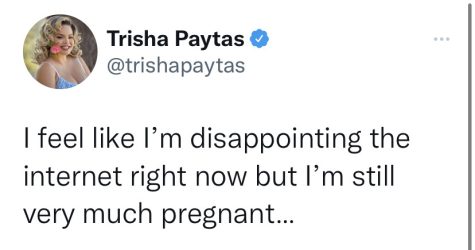 Trisha did not end up giving birth that day, but she did give birth to her daughter Malibu Barbie Paytas-Hacmon on September 14, 2022. Whether the queen will reincarnate as Malibu will remain a speculation. It is safe to say that both parties deserve respect as the world says farewell to one and welcome to the other.