Fall Book Recommendations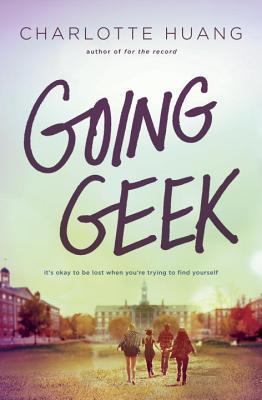 Fall is here! Here are some Fall Books that you can find in our Thunderbird Media Center and enjoy this season.
1) EveryDay by David Levithan                                                                                                                                                                                       
A man who awakens each morning in a different body. Though he is in another person's body, he still has his own ideas and feelings. However, he eventually encounters the girl of his dreams while inhabiting someone else's body, and he keeps looking for her while trying to persuade her that he is who he claims to be. This book is great from those you love romance but also suspenseful books. 
 2) Going Geek by Charlotte Huang
Skylar Hoffmans had everything she needed in life, including a fantastic boyfriend, cool friends, and a dorm that everyone wanted to be in until senior year, when everything disappeared. Skylar's actions over the summer resulted in her being expelled from the dorm, losing her lovers, and losing her friends. 
3) Salt to the sea by Ruta Sepetys
Together, a teenager, a Polish orphan, an artist, a nurse, and a nazi board a ship to save their own lives. All hiding something and possessing secrets. 
4) The Living by Matt De La Pena
A young youngster obtains employment on a cruise ship in a dystopian fiction, but a catastrophic earthquake occurs and splits the ship in two. For all the horror lovers 
5) The Unclaimed Victim by D.M. Pulley
For all enthusiasts of mysteries and thrillers. The torso murderer was a well-known serial killer who operated in the 1930s. Years later, similar murders still occur. A freshman girl returns home from college to find her father fixated with the murderer, thinking that her father might be connected to the recent crimes as a copycat?
6) The Hunt for Red October by Tom Clancy
A military or war author. A Soviet naval captain who wishes to flee to the United States during the Cold War travels there aboard a submarine. America interprets this as the Soviet Union making a move and requesting war, which leads to instability.
7) Kalahari by Jessica Khoury
Five teens find themselves stranded in the safari with a lion on their tail. This book is good for people who like reading many genres. 
8) Dune by Frank Herbert
A science fiction novel, the first part of which was recently adapted into a film. To preserve his future and the future of his people on the right course, Paul Atreides must journey to a different planet. This is a great fall book because it gives off fall vibes such as the aesthetic of the book and the movie. 
9) Million Dollar Throw by Mike Lupica
A high school student from a low-income neighborhood enters a competition to toss a ball during the halftime performance in the hopes of winning a million dollars. Given that his family would soon lose their home, he needs this. Can he accomplish it?
10) A Thousand Sisters by Elizabeth E. Wein
Three women who take the flight to defend their country as navigators, pilots, and mechanics.
11) For Everyone by Jason Reynolds
A collection of little poetry that is both simple to read and a wonderful way to kick off the fall season.
  The fall season has arrived and whether or not you want to be snuggled up in a cozy blanket or getting a breath of fresh air as the weather cools down and leaves start to fall and as you read a book, there is a book out there for everyone to enjoy this fall season.