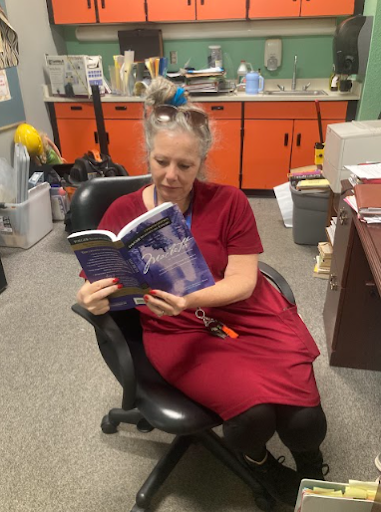 Mrs. Bauer-Spano has been working at Thunderbird for over five years and teaches more than just Theater classes. She takes the extra step by leading several after school clubs. She is in charge of both the Fall and Spring plays as well as the Masque and Dagger club. Mrs. B, as her students call her, has had a lot of experience with theater. After interviewing Mrs. B, here was what she had to say:
How long have you been directing and why did you decide to go down that path?
"I have been directing for about 20 years and I started out by acting and performing, when my acting coach told me I was a director. When I took my first directing class in college, I found out I liked directing better than acting."
What is Masque and Dagger?
"Masque and Dagger is a theater club that anyone can join. The masque part is the acting and the dagger is the stagecraft. Students can choose to become Thespians and earn scholarships to colleges."
What do you like to do outside of school? 
"Outside of school, I love to take trips across the country with my husband, I enjoy doing yoga, and being able to hang out with my cat, Manny Muchacho."
In conclusion, Mrs. B is a teacher who takes time out of her day, so her students can shine on and behind the stage. She works to make sure that students can enjoy their classes and find the path that they want to take in life.