The Go To Snack Shop For Every Titan
Titans, the Thundershack is back and better than ever with exclusive menu items!
The Thundershack is Thunderbird High School's student-operated store that specializes in selling snacks and drinks, and it is run by the school's Advanced Marketing class and Ms.King, their teacher who also teaches two other business courses: Intro to Business & Marketing and Sports Marketing. Students who work at the Thundershack benefit from the store because it allows them to utilize and expand on their business knowledge by physically managing a business since it is a more hands-on experience. Student customers also benefit from the Thundershack as it provides them with a variety of snacks and drinks to choose from that are additionally more budget-friendly. Frank Lin, a senior and Advanced Marketing student, states that "[he is] so excited to work at the Thundershack this year[, and he] usually tend[s] to go to the vending machines for snacks and drinks, but working at the Thundershack has made [him] realize that it is so much better [since] it has got it all and at much more reasonable prices." Not only does the Thundershack provide its customers with more options to choose from for food and drinks, but they are also guaranteed to enjoy the snacks they pay for unlike the school's vending machines that are often known for stealing students' money, but those who buy from the Thundershack can easily prevent this from happening.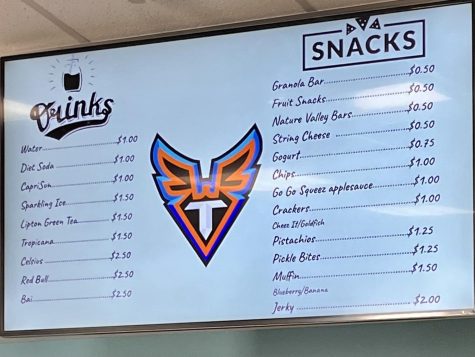 Due to COVID-19 and other recent school regulation changes that have been implemented the last two school years, the Thundershack has had to limit its snack and drink selection, resulting in its operators leaving behind products from previous years, such as their pizza; however, these new guidelines and restrictions have not deprived them of their enthusiasm and appreciation for being able to have that hands-on learning experience, and their teacher, Ms. King, continues "looking forward to growing the Thundershack and making it a lunch staple" because in spite of its limits, she and her students have added and will continue to add a variety of items that differentiate from the food and drinks students can get in the vending machines. As of right now, its drink selection consists of regular and sparkling water, diet soda, energy drinks, juices, and green tea with prices ranging from $1 to $2.50. As for its snacks, a variety of granola bars, fruit snacks, cheese, chips, apple sauce, crackers, gogurts, pistachios, pickle bites, jerky, and muffins are sold with prices ranging from 50 cents to $2. 
The Thundershack is open every day except Wednesdays during first and second lunch, and is located in front of the student council room within the H building, so Titans, if you have not already, go visit the Thundershack and buy their delicious yet reasonably priced snacks and drinks during your lunch. Be sure to bring your cash with you as it is the only method of payment accepted!