Climate Change Activists Throw Food at Paintings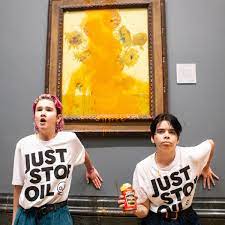 The action to raise awareness for climate change has caused activists to take part in an immense "food fight" throughout art museums in Europe, according to NBC News.
European climate change activists who are a part of the group called "Just Stop Oil" began throwing food on fine art pieces by Monet, Van Gogh, and Vermeer in late October to spread the following message across the world: "The planet's life must and always matter more than some paintings that are only used to look at."
Since the main material that is used to create such artworks is oil, which is one of the major factors as to why pollution is occuring nationwide, this issue caused activists to react in an enraged manner where they decided to ruin these artworks to raise awareness and make the public see the real problem. 
The reason why they decided to throw out food such as tomato sauce and cake was to remind people that the world is currently experiencing the difficulties of paying for oil. Overused oil usage and supply enables the increase in oil prices causing families who don't have enough money make it difficult to obtain such resources. For this reason, they attempted to grab the public's and media's attention into this matter in order to raise awareness that these oil paintings aren't worth looking at for enjoyment when the world is suffering from high oil prices and pollution. 
Insider News states, the activists' point was to not destroy the paintings, but to attempt to bring change and awareness to the world.
Paintings Activists Attacked according to Insider News:
On October 14, two activists threw tomato soup on "Sunflowers," a classic Van Gogh painting.

On October 14 as well, two activists threw mashed potatoes on a Monet painting, "Grainstacks."

Then, on October 28, an activist glued himself and splashed tomato sauce onto "Girl With A Pearl Earring," a Vermeer painting.
"Climate protesters have also hit museums in Glasgow, Florence and the Vatican, as well as multiple London galleries", reports Smithsonian Magazine. Hence, these protests are targeting paintings that are located in Europe because this continent is known for its art since the beginning of time.
Mirjam Hermann, a protester, says  "People are starving. People are freezing. People are dying. We are in a climate catastrophe, all of you are afraid of tomato soup or mashed potatoes on a painting." Hermann intends to show people the reality and downside of these paintings that affect the perspective of climate change. They wish to make those citizens, who were disgusted by the activists' actions, by attacking a work of art, look at a more serious perspective of people suffering from pollution that was mainly caused by oil supply than the fact that a painting has been destroyed by food.
In other words, these protesters wanted to show the media how they feel when the world is at its state of calamity because destroying a beautiful scenery such as a painting, could represent the world in general. They attempt to represent a beautiful and diverse world that is now getting polluted by none other than humans itself would be similar to these activists attacking the paintings through throwing tomato soup or mashed potatoes.
Another activist, Phoebe Plummer, a "Just Stop Oil" activist, said that her fellow activists are protesting to raise questions and concerns of important issues regarding pollution and the increase of fossil fuel usage, etc. Since they assume that climate change is not an issue that is talked about on a regular basis, they decided to raise awareness of this topic to the public through art museums.
Famous art pieces are being attacked by a group of climate change activists aiming to bring awareness to the increase of oil prices and pollution due to the use of oil for paintings. Besides that, they present a visual representation on how the beautiful and magnificent Earth is in a dying state.