The Phoenix Zoolights
Zoolights is an exciting way to celebrate this upcoming holiday with family and friends.      
It is one of the Valley's favorite holiday traditions and is located in Papago Park, the Phoenix Zoo. Different parts of the zoo are decorated with lights and animal lanterns. This year they have new additions: an enhanced Santa experience and a new music and light show. Zoolights will be open until January 15, 2023. Tickets can be purchased at the gate or online starting at $30 for general admission but $25 for those with a membership. Children under two years old get in for free. The following link can be used to purchase general admission: https://tickets.phoenixzoo.org/WebStore/shop/ViewItems.aspx?CG=ZL1&C=ZL2. If interested in becoming a member and saving a little money on tickets and fees, the following link can be used: https://www.phoenixzoo.org/membership/.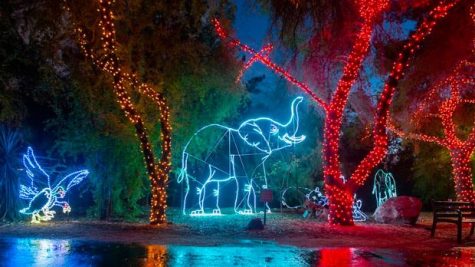 It is a great experience for people of any age. A yelp reviewer says "I was a little hesitant to visit with my two kiddos (ages 3 and 5), but they both lasted the entire night and enjoyed every second of it!"
There are a bunch of attractions to get your interest:
Light Lake Show- Watch a mesmerizing light show in the lake with a 50 feet tree synchronized with music.

Dinosaurs in the Desert- Colossal dinosaurs and other ancient beasts dominate the landscape in this prehistoric experience.

Holiday Safari Animal Presentation- This occurs from 8 p.m. – 9 p.m. as well as community presentations on Wednesdays and Thursdays at 6 p.m.

Photos with Santa- Meet Santa while enjoying some interactive glowing swings, s'mores stations, and more.
To purchase tickets go to https://www.phoenixzoo.org/photos-with-santa/
Snow Joke- Experience a snowy surprise at the end of the Light Lake show near Monkey Village. 
Wildlife Lantern Cul-de-sac- On the African Trail you can walk around and enjoy over 50 wildlife lanterns, including butterflies, frogs, lions, leopards, pandas, and more.

Pop-up Zoo shops/Desert Marketplace- Take home a souvenir of your visit at the gift shops. 

Holiday Treats- Eat your favorite holiday treats during your stay, including kettle corn, s'mores, and hot cocoa.
Christine P, a yelp reviewer, says  "A nice cup of hot chocolate and a stroll to see all the light is a great way to get into the holiday spirit." Zoolights is a wonderful way to get into the Christmas spirit. "This was my second time at Zoolights and they had different things both times which was nice. They seem to add more things each year and we had a blast. Really gets you in the Christmas mood!" another yelp review says.
As you can see, Zoolights is a fun and great way to hang out with friends and family and enjoy your holiday with them while eating your favorite Christmas treats.