Netflix's Controversial Dahmer Series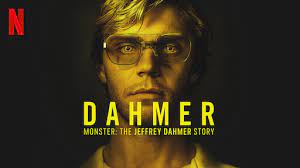 The latest dramatization of Jeffrey Dahmer's murders has provoked a cluster of controversies.
Netflix is receiving extreme backlash for its new docu-series based on the notorious serial killer Jeffrey Dahmer, also known as the Milwaukee Cannibal. The docu-series, Dahmer-Monster: The Jeffrey Dahmer Story has once again traumatized the families of Dahmer's victims by them being reminded of how he brutally murdered and even ate some of his victims. However, since the show premiered on Sep 21, 2022, it has become one of the platform's most popular shows. It even surpassed Squid Game with over 196 billion viewing hours.
Rita Isbell, the sister of Errol Lindsey, who was one of Dahmer's victims, wrote a personal message to Insider in which she explained how she was bothered by the series. She wrote, "I was never contacted about the show. I feel like Netflix should have asked if we mind or how we felt about wanting it. They did not ask me anything. They just did it." She added, "But I'm not money hungry, and that's what this show is about, Netflix trying to get paid." Her cousin Eric Perry also spoke out against the show on Twitter in a viral tweet that says, "I'm not telling anyone what to watch, I know true crime media is huge rn, but if you're actually curious about the victims, my family are pissed about this show", It's retraumatizing over and over again, and for what? How many movies/shows/documentaries do we need?" Another victim's family member that has spoken out against the Netflix show is Shirley Hughes, whose son Tony Hughes was murdered by Dahmer in 1991. Tony, who was hearing-impaired after going deaf as a child, met Dahmer at the 219 club in Milwaukee. Shirley Hughes condemns the Netflix series, saying that she does not understand how the show came about. "I don't see how they can do that," she said. "I don't see how they can use our names and put stuff out there like that.
Critics have also questioned the need to revisit the story of a serial killer who targeted primarily men and children of color. The series has received backlash after Netflix tagged it as "LGBTQ" content as well.  It is a known fact that most of the men Dahmer targeted were apart of the LGBTQ community, but some people in the community are upset because that is not the representation they want. Although Netflix quickly removed the tag, people feel that it is still wrong. "I feel like it fetishes this whole horrible moment in Milwaukee history. It shouldn't be looked at that way, it just feels completely wrong," a drag performer B.J. Daniels said. 
Although it is publicly known that their actions have deeply affected people, Netflix has yet to publicly speak on the negative impacts of their docu-series.