Food: A Person's One True Love
Love is not one of the five senses but taste is. Although you might not have good taste in love interests, here at The Challenge we happen to have good taste in food, so here are some top places to get Valentine's Day-themed food if you are in need of a celebratory meal this Valentine's. <3
1. Chick-fil-A
In honor of Valentine's Day, Chick-fil-A is adding a festive touch to its menu by offering its customers sweet or savory items in a heart-shaped tray! This includes and is limited to its 30-count Chick-fil-A® Nuggets, 10-count Chick n Minis®, 6-count Chocolate Chunk Cookies, or 12 Chocolate Fudge Brownie halves. These trays may be ordered and delivered from participating restaurants for a limited time only and while supplies last, so download the Chick-fil-A app or call your nearby restaurant to confirm availability as an anonymous Chick-fil-A representative suggests.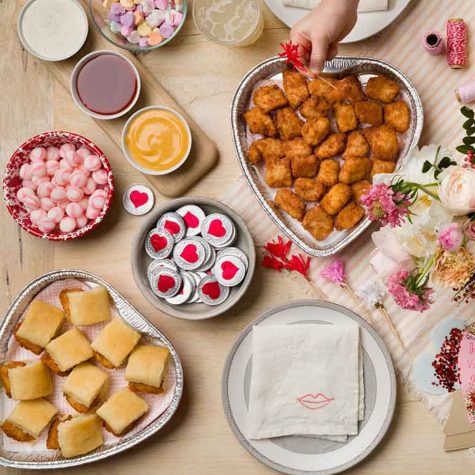 2. Dunkin Donuts
Like Chick-fil-A, Dunkin Donuts is celebrating Valentine's Day with two new and exclusive heart-shaped donuts and sweet drinks: the Brownie Batter Donut, the Cupid's Choice Donut, the Cocoa Mocha Iced Signature Latte, and the Pink Strawberry Coconut Refresher. Although all these items may be similar in theme, each has its own taste. For example, both donuts are topped with Valentine's Day sprinkles, but the Brownie Batter Donut is perfect for chocolate lovers as it is a heart-shaped donut filled with brownie batter and covered in chocolate frosting. Meanwhile, the Cupid's Choice Donut is preferred by vanilla lovers and those who have a little bit of a sweeter tooth, considering that is filled with cream and topped with strawberry frosting; however, both donuts may be purchased for $1.79 each and $14.99 for a dozen. As for its new drinks, the Cocoa Mocha Iced Signature Latte starts at $5.49 (prices vary by cup size) and consists of Dunkin's signature latte but with extra mocha and is topped with whip cream, mocha syrup, and cocoa powder. Furthermore, the Pink Strawberry Coconut Refresher's starting price is $3.99, and it is a unique green tea that is sweetened with strawberry dragon fruit and coconut milk. Stop by Dunkin Donuts for a sweet treat and drink to go along with it!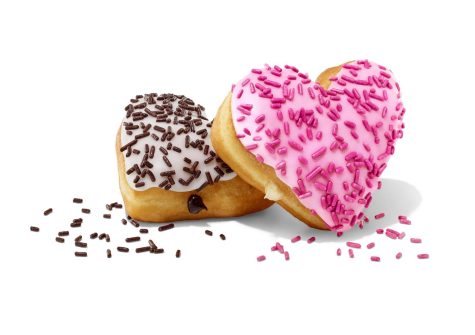 3. Krispy Kreme Doughnuts
If you are not so keen on Dunkin Donuts, no worries, Krispy Kreme has got you covered as it will also be offering its very own, limited edition Valentine's doughnuts featuring three new doughnuts: the Raspberry Choc Escape, the Salted Caramel Temptation, and the Strawberry Kreme Delight, but rumor has it that there is a fourth but gift pack exclusive doughnut by the name of "Sprinkled With Love." To confirm whether or not that is true or false, be sure to buy yourself Krispy Kreme's Choc-Full-Of Love Dozen of doughnuts. Availability is said to be limited, but just like Dunkin Donuts, Krispy Kreme's additions are made up of a variety of flavors. As their representatives say, the Raspberry Choc Escape is a raspberry chocolate-filled doughnut; the Salted Caramel Temptation is filled with salted caramel filling and topped with Toffee nibs, and the Strawberry Kreme Delight is coated with white chocolate and filled with strawberry creme. Valentine's Day may be the 14th of February, but it is never too early to indulge in a heart-shaped dessert at Krispy Kreme, so check them out!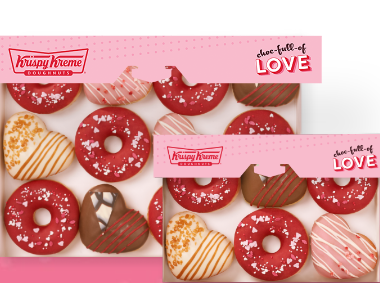 4. Any Pizzeria offering Heart-Shaped Pizzas
Whether or not you are feeling down and lonely or in love and mushy, heart-shaped pizzas are the way to go. They are a Valentine's Day staple, and it is only right considering that Dunkin Donuts, Krispy Kreme, and Chick-fil-A have got breakfast, lunch, and dessert covered. The following restaurants are a few of the places you can get your hands on a heart-shaped pizza: Pizza Hut, Papa John's, and Hungry Howie's. Prices may vary from $6.99 to $13.99.
From heartbreak to relationship drama to icks to utter bliss, you can count on the comfort of delicious sweet and savory drinks, donuts, cookies, brownies, chicken nuggets, and pizzas this Valentine's! <3