Outer Banks Season 3
A treasure hunt, secrets, and twists and turns around every corner? Sounds pretty thrilling does it not? If you think so, maybe consider diving into the world of Poguelandia and check out Netflix's Outer Banks.
Netflix's wildly popular teen drama, Outer Banks, will soon be returning for its long anticipated third season after the release of season 2 back in 2021. Outer Banks follows John B and his tight knit group of friends, commonly known as the pogues, as they navigate the treacherous waters of life in the Outer Banks of North Carolina. In addition to having to deal with constant battles with the opposing class group, the kooks, the pogues also have to deal with their own family drama and even sometimes run-ins with law enforcement. 
With a year and half to speculate, fans have sparked many predictions and questions for the new season. One from tvguide.com being, "What's going to happen after the reveal of Big John (Charles Halford), John B.'s dad, being alive? " Since he had been presumed dead since season 1, fans were shocked to find out he was in fact alive in the finale of season 2. Many predict that Big John will seek revenge against the man who "killed" h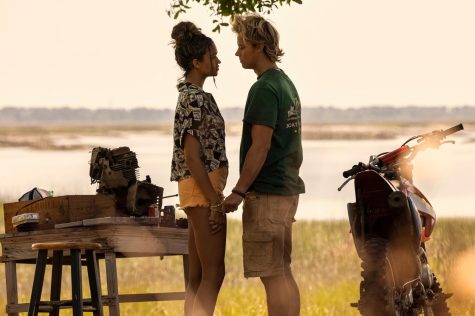 im in season 1, Ward Cameron. There is also much speculation about possible new relationships in the show, especially after new promo photos were released, including a long awaited relationship between fan favorites Kiara and JJ. Many fans also expect newcomer, Cleo, and life long pogue, Pope, to spark a relationship after their adventures in the season 2 finale.
After ending season 2 with the pogues being stranded on a deserted island, many wonder what might lie ahead for them. Hopefully February 23 will hold all the answers fans desire.