2022: A Year in Review
Like most years, the past year has certainly been one for the record books, but 2022 has certainly been more spicy than the rest.
There certainly has been a lot of political drama over the past year, not just in the US but across the world. The year started with the unprovoked invasion of Ukraine by Russia. This move prompted the action of not only many countries, including the United States, but also just regular people in support of Ukraine and it seemed as if the whole world was behind them. Sadly, almost a year later and the fighting has not come to an end. Other major conflicts across the world include the protests in Iran sparked by the death of a young woman after her arrest for improperly wearing her hijab. Her death sparked a movement of outward defiance from women against the oppressive government of Iran. Back at home, the United States had many struggles of its own with the balance of power in the House of Representatives shifting to Republicans. Additionally, the year brought on many struggles for former President Donald Trump including the inquiry from the January 6 committee and the raid on Trump's personal estate for classified documents. The year also saw a tremendous amount of legislation against the LGBTQIA+. According to data from the American Civil Liberties Union, as of July 1 there was, "…at least 162 bills targeting LGBTQ Americans. " This even included the highly controversial "Don't Say Gay" bill.
Sports! Sports! Sports! They definitely played a huge part in 2022. The Winter Olympics, held in Beijing, were the first to kick off a year brimming with sports excitement. Despite the clear excitement for them, the Olympics were also shrouded in controversy, specifically with an ice skater who was accused of doping, Kamila Valieva. The year also saw the return of the World Cup in Qatar. After many upsets and intense games, according to olympics.com, Argentina came out the victorious winner.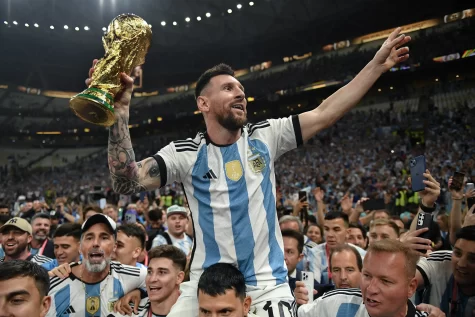 2022 was definitely a hot year for all things celebrity news. Of course, everyone remembers the now infamous Will Smith slap of Chris Rock at the 2022 Oscars. Smith had this to say to Trevor Noah of The Daily Show about his actions, "That was a rage that had been bottled for a really long time." Tragically, the year was also filled with high profile deaths, including the death of Queen Elizabeth ll.  Sadly, other deaths included Grease star Olivia Newton John and soccer star Pelé. The year also saw the release of Taylor Swift's new album, Midnights, which secured all top ten spots on the Billboard Hot 100. Swift was the first artist to ever achieve this.
After 2022, let's hope that 2023 will be our best year yet and have many great things in store for us.