Super Bowl Sunday Recap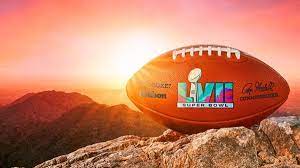 The Superbowl is the championship of the NFL which is held every year in February on the second Sunday of the month which has now been named, "Superbowl Sunday." This year the Superbowl was held at State Farm Stadium in Glendale, Arizona. The teams that featured in this year's Superbowl were the Kansas City Chiefs and the Philadelphia Eagles. The game ended with a final score of 38-35 with the Chiefs coming out victorious.
Coming into this game the Chiefs are known for mainly being built around their quarterback Patrick Mahomes, Joe Burrow, quarterback for the Cincinnati Bengals, stated, "He's the best right now he's been playing the best all year. It's fun to watch him. … There really hasn't been a lot of people like him to come through the game." This showed in the game as Mahomes was dominant and cemented him as a top quarterback in the NFL and in NFL history.
On the other hand, coming into this game the Eagles are known for their stifling defense, in an article by Dennis Olson from phlsportsnation.com stated, "the Eagles' defense has been electric. Leading the league with 14 total takes away, the defense has been dominant thus far. There is no weak spot on the defense right now. All three levels are playing at an extremely high level." The Eagles played a solid game in all aspects but ultimately came up short by giving up two late touchdowns, but showed throughout this game that they are an elite team in the NFL who will be back.
Along with this, the coach for the Chiefs was once the coach of the Eagles which will bring an even more intense aspect to this game, and in an article by Mitch Goldich from si.com added to this by saying"People know the stakes by now. Reid, the winningest coach in Eagles history, spent 14 seasons in Philly, leading the team to five NFC championship games and one Super Bowl loss. He then moved on to Kansas City, where he kept chugging right along." 
The Superbowl was a fun one this year and did not disappoint the over 100 million viewers that tuned in. These teams both showed they will be back and these will both be teams to watch over the coming seasons.