Lana Del Rey Reaches New Heights of Musical Creativity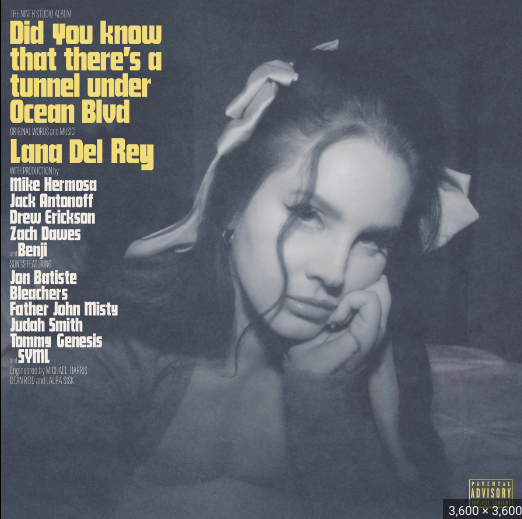 After 2 years, Lana is releasing her ninth album called Did You Know That There's a Tunnel Under Ocean Blvd. 
Originally scheduled for release on March 10, the album will now arrive on March 24, according to the singer's private Instagram account. No explanation was provided in the post, but she did reveal the tracklist and album cover. 
Many artists will be featured like Father John Misty, Bleachers, Tommy Genesis, SYML, and Riopy. She is producing the album with Jack Anotoff, Mike Hermosa, Drew Erickson, Benji, and Zach Dawes. 
The Track List: 
The Grants 

Did You Know That There's a Tunnel Under Ocean Blvd 

Sweet 

A&W

Judah Smith Interlude 

Candy Necklace

Jon Batiste Interlude 

Kintsugi 

Fingertips 

Paris, Texas 

Grandfather Please Stand on The Shoulders of My Father While He's Deep-Sea Fishing 

Let the Light In (ft. Father John Misty) 

Margaret (ft. Bleachers) 

Fishtail 

Peppers (ft. Tommy Genesis) 

Taco Truck v VB 
Did you know that "There's a Tunnel Under Ocean Blvd" and "A&W" are the two songs that have recently been released. The songs are very Lana, with a mellow tone that sounds like it straight from the 50's with a dark story. 
Lana has also revealed during an interview with Billie Eilish that ´Margaret´ was written for Jack Anotoff's fiancé. ¨September 2022 was the very last song I wrote. It's called ´Margaret´ about Jack Antonoffś fiancé.¨
As if she couldn't have made this album even more iconic she also posted on her Instagram a billboard promoting her album in her ex boyfriend, Sean Larkin, hometown with the caption ¨There's only one and it's in Tulsa" and also adding in the comments ¨It's. Personal.¨ Also she dropped her album title and track list on his birthday, December 7. This sent fans into a whorl. ¨Lana Del Rey placing the only billboard to promote her album in Tulsa, Oklahoma (her ex's hometown) is the level of shady I aspire to be. Taylor Swift taught her well," taking us back to her collaboration with Swift, Snow on the Beach. Even students here at thunderbird enjoy the artist and are anticipating the album. Cole Gutierrez, sophomore, says that this is "pretty normal of her" and "just something she would do." 
We are all eagerly anticipating March 24 so that we can listen to the remainder of this great album.