Places to Visit This Summer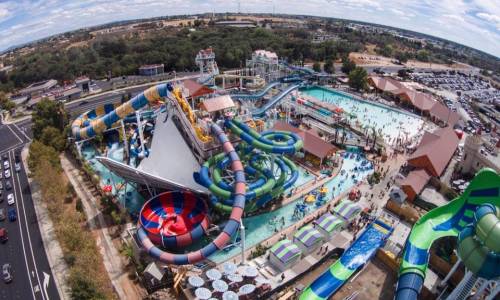 As summer is upon us, here is a list of places to visit during summer vacation. 
Six Flags Hurricane Harbor 
Not only does the park have 15 rides, but it provides food, beverages, shops, souvenirs, cabana, and first aid. The park is open from 11 a.m. to 5 a.m., hours may vary depending on events. A single daily ticket is $30, but there are passes ranging from eight dollars to $14. 
Butterfly Wonderland
One of the largest butterfly exhibits in the United States displays over 3,000 different butterflies. It has all types of exhibits, ranging from Tropical Water of the World exhibit, Honey Bee Extravaganza, 3D theater, and Spineless Giants and Rainforest Reptile exhibit. Sunday through Wednesday, it opens from 9 a.m. to 5 p.m., and Thursday through Saturday from 9 a.m. to 6 p.m. It offers multiple ticket packs ranging from $30 to $90 depending on the chosen activities. 
      2. Odysea Aquarium 
 The aquarium offers a shark tour, a penguin encounter, and a sloth encounter. It has many interactive exhibits with animals and an aquarium tunnel. Unlike most attractions on this list, the aquarium is always open from 9 a.m. to 7 p.m. all week. 
      3. Sea Life Arizona Aquarium
Admission is $15, not including memberships and ticket plans. A popular attraction is the Underwater World which has a 360 ocean tunnel, jellyfish, an opportunity to touch sea stars, rescued sea turtles, and conservation and animal welfare. The aquarium is open all week from 11 a.m. to 5 p.m. 
      4. iFLY Indoor Skydiving 
The flight experience is safe for all ages, family-friendly, and for all levels. A flight can be booked online for $75, family packs can be up to $185. Lessons can be provided if needed. Weekly hours do vary, and it is closed on Wednesdays. Parties and events have payment offers. 
      5. Golfland Sunsplash 
It has 30 rides and attractions that will be open daily starting May 26. Activities provided are the waterpark, Golfland, Night Splash, and miniature golf. Admission to the waterpark does vary by day, but it ranges from $40 to $48. Miniature golf and Golfland are normally $10 to $12 per person. 
      6. Octane Raceway
A ⅓ mile indoor track and then it flows to an outdoor course. Racing can be purchased at the door, but reservations are recommended for the weekends. Adult races are 14 laps, whereas the kids run 10 laps, and the winner is scored by the fastest lap time. Races are priced at, 1 race for $25, 2 races for $45, and 3 races for $60. There are also yearly plans, with different benefits 
All of these places can be visited online for further information. All the listed places are a great way to enjoy the summer, avoiding the heat.