The Criminalization of Drag in America
The art of drag has been a hot topic in politics, as a wave of anti-drag legislation has surfaced the country.
Drag is an expressionistic and performative art form in which individuals accessorize  and express themselves in an exaggerated style, typically that of their opposite gender. A swarm of bills have been introduced across the nation that, if passed, will result in legal repercussions for anyone appearing to be in drag. Time Magazine informs, according to the Arizona Mirror, "Artists that perform in front of children under 15 years old would be subject to at least ten years in prison, and forced to register as sex offenders…" On top of this, drag in any public space will be deemed a crime and labeled as an "adult business", which would make it illegal for an artist to be located near a school or residential area. With Tennessee being the first state to officially pass anti-drag laws so far, the bills are running throughout Arizona, Kentucky, Oklahoma, Arkansas, Idaho, Kansas, Missouri, Montana, Nebraska, Texas, South Carolina, West Virginia, and more. 
The criminalization of drag is in favor of protecting children and preserving male and female "norms" in society. For supporters of anti-drag bills, one of the biggest signs of a threat has been Drag Queen Story Hour, in which drag artists attend public libraries and read books to children. Members of the Proud Boys, right-wing extremist group, invaded the family event on June 11, 2022, spewing derogatory terms towards the drag queens; soon after, the case was investigated as a hate crime. Representative Marjorie Taylor Greene states, "We have had enough of drag queens gyrating in front of children and the public square." and claims the artists to be groomers and child predators, who must stop sexualizing children for profit. Florida governor Ron DeSantis suggests, "Child protective services in [his] state might consider it "child endangerment" to bring children to drag shows." In addition to this, those in favor of the bills alert the media that drag queens and kings will result in confusion for children. President of the New Yorker's Family Research Foundation, Jason McGuire, states that drag around children is more about desensitizing them to gender fluidity. He claims: "We ought to be really helping them to realize who they are created to be. Not confusing them about their sexuality or gender identities." Many in support of criminalizing drag acknowledge that drag threatens their own faithful ideologies.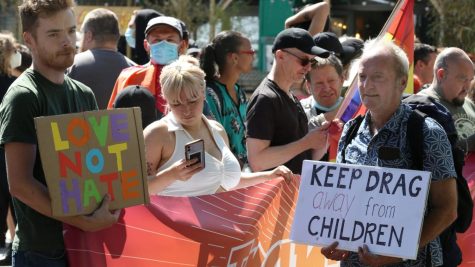 However, those who oppose the bills argue that this is a direct attack on queer people, and the actions being taken by lawmakers are severely unconstitutional. As we've seen throughout history, LGBTQ+ individuals have had to go the extra mile to be accepted in society. One of America's most notable drag queens, RuPaul Charles, explains further, "We know that bullies are incompetent at solving real issues, they look for easy targets so they can give the impression of being effective. They think our love, our light, our laughter, and our joy are signs of weakness, but they're wrong, because that is our strength." Many have observed that straight, cisgender people who have done drag (Robin Williams as Mrs. Doubtfire, Tyler Perry as Madea Simmons, characters in Saturday Night Live, etc.) are staples of comedy and celebrated by millions. However, when the act is expressed and enjoyed by queer people, it is put under a spectacle and given the the title of "dangerous" or "predatory". For several years, queer people have been called "groomers."Grooming is defined as an adult manipulating a child and gaining their trust to then abuse them. Homophobic figures have used this term to stereotype people who are open to discussions of gender identity or sexual orientation. However these topics are unrelated to predation. The narrative that LGBTQ+ people groom children is speculated to be used out of fear, hate, or ignorance. Tennessee drag queen, Slade Kyle, reminds Fox News "The original Pride was a riot," in regards to Stonewall, "and this year we need to remind them that we will fight for our liberation." With the main goal of the propositions being the safety of children, people have pointed out that the focal point on drag queens in legislation is entirely hypocritical. As the leading cause of death of young children in the United States is firearms, politicians not having a full focus on preventing gun violence has put their values into question. Nathan Dahm, Oklahoma republican senator, claims in an interview with Jon Stewart, "the government has a responsibility to protect children," in reference to kids attending Drag Queen Story Hours, he also aims to loosen policies on guns. Those in opposition to the bills against drag performers believe that starting with gun safety will effectively protect children in the U.S.
Expressions of drag have been seen throughout history and cannot easily be erased. Hundreds of anti-drag and LGBTQ+ legislation have been discussed, debated, and debriefed in just 2023 alone. Despite this, both parties show persistence and dedication to their end goal.