If volunteer work and assisting those in your community is in your interests, join Thunderbird's Key Club and contribute to the welfare of the people around you. Key Club is a student-led organization that provides members with opportunities to build their own characters, as well as the chance to lend a helping hang to the people around them. It helps schools build and change communities inside and outside of school. Thunderbird's Key Club is hosted in Mr. Vega's room, H-110.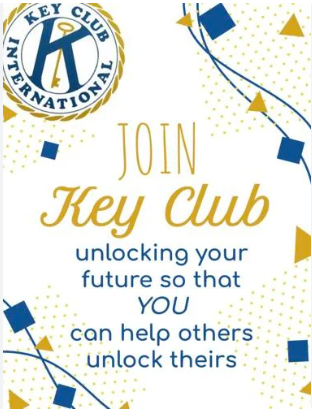 This school's Key Club is only one of the main clubs out there. Key Club is an international organization that is spread all around the world. Every campus club is only a small extension of Key Club International.
There are many different objectives of Key Club International. Stated on keyclub.org, Key Club International's objectives are to give primacy to one's self, encourage the Golden Rule, promote the application of higher standards during social contact, to develop better citizenships, to provide a way to form long lasting friendships, to build better communities and to help create and maintain the idealism that increases righteousness, justice, patriotism and good will.
The club teaches the importance of taking time out of your life to help the people around you. Members partake in activities such as volunteering at homeless shelters, participating and raising money during charity events, and helping out around campus during school activities. 
Thunderbird's Key Club president, Jazmin Santillan, said that Key Club does not just teach about honesty and generosity. Key Club makes members consider things that they may have never thought about before, or the things that they take for granted in their life. 
Coming up for the month of October, on the 7th, Key Club members will be walking laps around Hurricane Harbor while raising money for Kiwanis, another service club,  and Key Club itself. Following that, on the 27th, there will be a Kid's Day Fair. The Arizona State Fair will be opened exclusively for special needs youth. Members will be working together with members from Kiwanis, and will be guiding guests, as well as helping around the area, helping to make sure that the children have a special day to remember. On the 28th, members will be given the opportunity to attend the breast cancer walk. They are hoping to  raise about one thousand dollars in hopes of raising breast cancer awareness and to help grow a supportive community for breast cancer survivors.
There will also be a campus food drive that will be held from October 30 to December 1. Key Club will be raising about one thousand to two thousand pounds of food and donating it to St. Mary's Food Bank. Jazmin Santillan, Key Club president, stated that Key Club is also working on getting a hygiene kit drive that will raise items like toothbrushes and toothpaste. 
You may wonder why you should join Key Club. While volunteer work may not be for you, Key Club is not just about work. It is also about the connections you make with the people that you help. The many connections and friendships that can be made through Key Club are worth it, and even if you are not very talkative, the feelings of accomplishment that members gain after a particularly long event are for you. 
Being able to grow and build yourself as a person is also a bonus. As a member, you are able to help build your character through the acts of kindness and teamwork that come from the volunteer work and community service that the club provides. Even if Key Club does not sound like it is for you, come check it out and see if helping those in your community is in your interests.