Black Panther: Wakanda Forever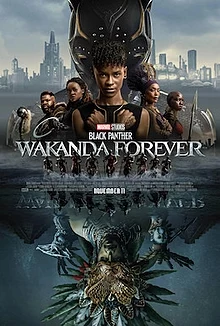 Chadwick Boseman, the star of Black Panther, tragically passed away from colon cancer in December 2020. Marvel announced Black Panther: Wakanda Forever just four months after this.
On November 11, 2022, Black Panther will have its world debut, recounting the tale of Wakanda following the death of its King, Black Panther. No one will be recasted for Boseman as T'Challa, according to Marvel. "Honoring Chadwick Boseman's legacy & portrayal of T'Challa, MarvelStudios will not recast the character, but will explore the world of Wakanda & the rich characters introduced in the first film," according to a tweet from Marvel. Many fans think that the person wearing the Black Panther costume in the trailer is his sister Shuri. She does take the role several times in the comics, like in Black Panther #2 in the 2005 comic. 
Ryan Coogler adjusted the plot to involve T'challa's passing in order to ease the cast and crew's grief. "He was somebody who was so about the collective. Black Panther, that was his movie.", Coogler told The Hollywood Reporter, "He was hired to play that role before anybody else was even thought of, before I was hired, before any of the actresses were hired."
Marvel confirmed that this is the final film in Phase Four of the MCU and we all can't wait for this movie.