Kanye West Recent News and How the Media is Covering It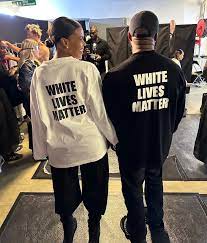 Award-winning artist Ye, formally known as Kanye West, has been in the news following antisemitic comments made not only on Twitter but on national television, as well. 
In a now-deleted tweet, Ye stated that he would "be going Def con 3 on Jewish people." Soon after the tweet had been posted, Twitter issued a suspension on his account. Ye would then go on to apologize for his tweet and any misunderstanding that was brought about by it, but the damage had already been done. After the tweet, on October 6, 2022, Ye was invited onto Fox News with Tucker Carlson.  During his appearance, he stated, "Jews are actually Black people, saying that when he refers to Jews he means the 12 lost tribes of Judah, the blood of Christ, who the people known as the race Black really is [sick]." This belief of Ye's stems from an antisemitic radical Hebrew Israelite theology, which believes that Jewish people of today have stolen their religion and that it belongs to them. In layman, the Jewish people of today are not real Jews. These comments have led a plethora of brands such as Adidas, Balenciaga, Gap, and more to sever ties with the artist. While these comments would be the final straw for many corporations, what Ye did during Paris Fashion Week has resulted in his downward spiral. In a surprise pop-up show of Ye's clothing brand, Ye decided to dawn himself and others in "White Lives Matter " shirts. This countermovement movement is disruptive and radical and is used to detract from the message of BLM, which has led to public outrage demanding that companies take action against the artist. 
Many media outlets were quick to publicize Ye's antics and demonize him for what he had done. However, many outlets fail to mention the status of Ye's mental health. No one can or should, defend Kanye West's actions, but it is crucial to understand who he is and why he is making them. Kanye West is a man who has come to lose everything from the tragic passing of his mother in 2007 who had raised him single-handedly, to getting a divorce from his wife Kim Kardashian, a woman who he has four children with, four children who he is no longer able to see. The issue is that many media outlets are bashing him and highlighting his faults and mess-ups, rather than mentioning that these comments are coming from a man who is mentally ill and needs professional help.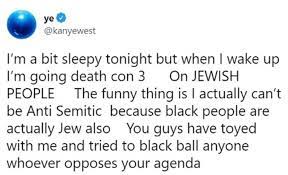 Ye has made horrible remarks about the Jewish religion and has worn very controversial clothing, but many think because he is wealthy and has everything he could ever want he should be a normal and happy person. Ye needs help and lots of it. I hope more big named media outlets focus on the help he needs. An article written by Allison Young titled "A Therapist Speaks: What the Ye (Kanye West) Drama Can Teach Us About Mental Health Stigma" highlights his actions and how the public reacted. We can learn a lot from Ye's mistakes and begin to gain a better understanding of how important mental health is. In conclusion, get proper help when you think you have it because you never know how bad things can become until you experience them for yourself.
 Ye was showing lots of signs of struggling mentally, especially in recent years, and the more he lost the worse it got. It was a build-up and unfortunately, Ye became public enemy number 1, to most.